The Daniel Jordan Fiddle Foundation
Announces 2007 Grants
The Agape Therapeutic Riding Center Grant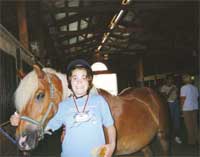 This program located in Cicero, Indiana exemplifies the power that equine therapy has to improve comprehension, listening skills, self-help skills and empathy for individuals with Autism. Agape will provide a week long summer adventure camp for adolescents and young adults with Autism that includes instruction in the indoor arena, trail riding with sensory integration activities, crafts and barn activities with this $10,000 grant.
The HeartShare Human Services of New York Grant
A grant for $11,175. was made to HeartShare to support their school-holiday program for adolescents with Autism. HeartShare's School Holiday Program offers enjoyable recreational outings to 15 teens with door-to-door transportation and skilled, caring supervision on days when school is not in session. The objective is to expose participants to a wide array of settings and social opportunities while allowing parents the ability to continue their normal work schedule. Trips include bowling, roller skating, shopping, the circus and sports events located near the program in Brooklyn, New York.
The SEARCH Day Program Grant
The SEARCH Day Program under the dynamic leadership of Executive Director, Kathy Solana is the recipient of a $12,746. grant that will be used to expand SEARCH's Adult Activities Center (AAC) Community Based Instruction and Work Program both on-site and in the community with employment specialists. Eighteen adults will be served, who require a one to three staff ratio, in this Ocean, New Jersey program.
Arts Unbound located in Orange, New Jersey will select 15 individuals who have interest and ability in the visual arts and will provide them will year-long art classes by trained professionals. Artwork created during class time will be featured in the Arts Unbound gallery and online store as well as in various community events. At the conclusion of the grant year, it is hoped that all participants will gain a greater appreciation of the visual arts and continue on in related vocational endeavors. This grant for $10.600. creates a unique vocational training opportunity for adults with Autism.
The New Jersey Center for Outreach & Services for the Autism Community (COSAC) Grant
The $16,500. grant enables COSAC to write and produce a compelling three-part DVD series exploring the residential, employment and services and resource needs of adults with Autism. The goal of the project is to generate awareness about the increasing numbers of adults with Autism and it will be disseminated to educate families, professionals and the general public.
http://www.autismnj.org/UntappedPotentialNJAdultsontheAutismSpectrum.aspx#services

PARC, the leading provider of services for children and adults with developmental disabilities in Putnam County, New York is the recipient of a $5000. grant to support respite services geared towards families with an adolescent or adult with Autism. The overall goal of the PARC respite program is to provide a better home environment by giving caregivers a much-needed support system so that they can reduce stress and fatigue and return refreshed to their daily responsibilities.
The Horses and the Handicapped of South Florida Grant
This $4000. grant will provide a year of horseback riding instructional therapy for two teenagers with Autism who require a scholarship to participate in the program. This program has served adolescents and adults in South Florida for more than 25 years. Through riding and exercise programs students with Autism improve communication, coordination and life skills that transfer to their daily lives.
The Alpine Learning Group Grant
The renowned Alpine Learning Group located in Paramus, New Jersey was awarded a $10,000. grant to develop a training manual and seminar in order to enhance the experience for both the students and participating community sites as part of the school's Supported Volunteer/Employment Program. The training and materials will provide the community sites with an overview of the characteristics of Autism and helpful strategies that can be used to facilitate and enrich Alpine's students integration into their host organizations. Alpine plans to make the seminar and manual available to other agencies that provide similar volunteer and work preparation programming.
Click here
to download the manual.
The Developmental Disabilities Institute (DDI) Grant
The Greenhouse Recreation Opportunities Workshop, otherwise known as Project GROW will create the opportunity for adults with Autism to work and learn horticulture skills and vocational social skills in DDI's greenhouse located in Suffolk County, New York. GROW donates flowers to several town beautification projects and other community organizations and the greenhouse grows and arranges over 25,000 plants for Suffolk County parks and all of DDI's 22 residential homes and 5 school campuses on Long Island. This $5000. grant creates the opportunity for the participants to become integral members of the community.
The Jewish Association for Developmental Disabilities (J-ADD) Grant
J-ADD, serving families in Northern New Jersey, has been awarded a $12,500. grant to continue and expand its Autism Family Support Hotline and the
J-ADD/Daniel Jordan Fiddle Foundation Resource Guide of Programs and Services for the Autism Community
. The Daniel Jordan Fiddle Foundation Family Support Hotline provides personalized services and individual attention to families who have an adolescent or adult family member with Autism. An expansive Resource Guide was developed in conjunction with the Hotline listing community resources, such as adult housing, employment, family support, social and recreational programs as well as legal and advocacy organizations. The hotline and guide are free of charge and can be accessed by calling 201-457-0058 x 15.
The Ramapo for Children Grant
A $5000. grant was given to the Rhinebeck, New York special needs camping program to launch a Family Respite Retreat pilot program for teenagers with Autism and their families at the 250 acres lakefront campus. During this family respite retreat at camp, teens with Autism and their families will have the benefit of Ramapo's strong support system as they relieve day to day stress by partaking in a wide array of outdoor and group activities.
The Nutley, New Jersey Phoenix Center co-founded in 1991 by Dr. Geraldine Gibbia and Dr. Douglas Berrian serves 146 students from 56 towns in the State ages 5-21 years old. The $5000 grant will be to provide a community recreation program for adolescents in the program that will include therapeutic horseback riding, a bowling league and a recreational swimming program. The Phoenix Center recreation program for adolescents is an important part of the curriculum that will create opportunities for socialization and skills development.
The Educational Partnership for Instructing Children (EPIC) Grant
The EPIC school is the recipient of a grant for $5250. for its Adolescent Supported Volunteer Program to teach adolescent learners age-appropriate, functional skills in a variety of integrated natural community environments to prepare them for transition into adulthood and supported employment.
The Elizabeth M. Boggs Center on Developmental Disabilities Grant
The Boggs Center, part of the Department of Pediatrics at Robert Wood Johnson Medical School in New Brunswick, New Jersey was awarded a grant for $15,199. to support the development and production of an interfaith resource booklet on Autism and the ways that clergy and congregations can support and include individuals with Autism throughout their lifespan and their families. The resource booklet will be disseminated throughout the United States. A conference co-sponsored by The Autism Center of New Jersey Medical School in Newark will provide symposiums and speakers that will enhance congregational supports for the Autism community and instructional materials will be developed as a further resource.
The Elizabeth M. Boggs Center releases an Autism and Faith Guide funded by DJF. Click Here to View
The Heartsong, Inc. Grant
Heartsong, Inc of Westchester, New York will be awarded a grant of $1,100 to support adolescents in the Fall at this art and music therapy program. The teens with Autism have been participating in the Heartsong program and supported by The Daniel Jordan Fiddle Foundation for several years and have enhanced their communication, behavior and social skills as a result of their participation in this nurturing and creative program.
The Zabota Foundation Grant
A $10,000 grant was awarded to the Fair Lawn, New Jersey vocational day program for adults with Autism who require extensive one-on-one attention to achieve pre-vocational and vocational goals. This Center based program allows for integration opportunities with the adjoining Adult Day Care Center for Seniors as well as a less-restrictive day program for adults with Autism and other developmental disabilities.
The Nassau Suffolk Services for Autism (NSSA) Grant
A grant in the amount of $8,650 was awarded to NSSA to underwrite the fees for 10 adolescent participants in its Gym/Swim Program held at the Suffolk Y-JCC located adjacent to the school. The program will allow students to participate in a community center while enhancing their physical fitness and social skills. There will be an opportunity for participants to learn swimming, basketball, running and tennis and to utilize a variety of gym equipment.
The Somerset Hills Learning Institute Grant
The newly built facility for The Somerset Hills Learning Institute located in Bedminster, New Jersey will now have a "mock hotel room' for adolescents and young adults in the program to learn and practice the necessary vocational skills to attain employment thanks to a $5000 grant. Pre-vocational and vocational training is vital to the transition process as adolescents age out of their school programs and the Somerset Hills Learning Institute program is a model for developing programs throughout the United States.
The Saddle Up! Grant

Located in Franklin, Tennessee, Saddle Up! is one of the premiere therapeutic equestrian programs in the United States. This $2,250 grant will fund summer riding lessons for adolescents with Autism. This program will be expertly conducted to enhance communication, socialization and recreational skills.
GHA, Inc. located in Albermarle North Carolina has been awarded an $8000. grant that will support the construction of a barn at GHA's Carolina Farms so as to allow adults with Autism to work directly with farm animals and enhance their farming and vocational skills.This project enables adults with Autism to realize the dream of living and working on a farm.
The Daniel Jordan Fiddle Foundation will award an additional $5000. in discretionary grants for 2007 to community programs that enhance the lives of adolescents and adults with Autism.